Wooden Garden Beds
Raised beds, also known as planting boxes or garden boxes, are a great way to plant vegetables, herbs or flowers. Raised beds prevent soil compaction and erosion.
Using raised beds in the home environment makes it easier to remove weeds and pests.
Cultivated flowers or vegetables are easy to take care of, and the comfortable height of the beds helps to reduce back tension and load when cultivating.
Unlike planting boxes, such method of planting has no bottom, which means that the roots of plants may reach deep into the soil.
Sets of raised beds are particularly durable and easily assembled. The product made of natural wood will serve for many years. It is a product consisting of wood board and metal hinge, which connects all boards into a single rectangular collar.
A simple, made-to-measure solution, it's perfect for creating raised flower beds, raised vegetable beds, planter boxes, and more.
Great for planting vegetables or flowers in personal garden or land-plot
All sets of raised beds are made of conifer wood. Our wood is 70 % FSC certified.
Our sets of raised beds come in different sizes, in order to meet your needs. We make them from non-processed wood.
Due to a fact, that the wood is cut in accordance with the highest requirements, precise length, width and height are guaranteed.
Natural wood boards may be painted.
Sets of raised wooden beds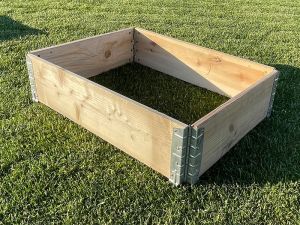 SET OF BED MADE OF NATURAL WOOD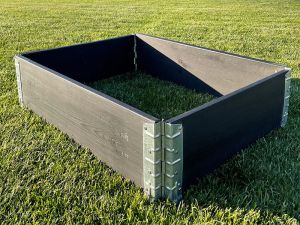 SET OF BED MADE OF PAINTED WOOD