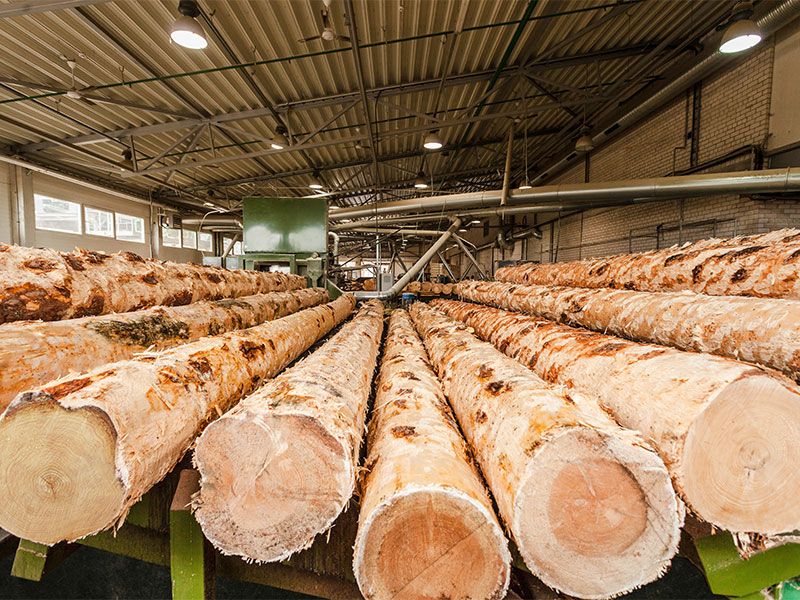 We are proud to be able to provide professional services and supply our clients with the highest quality wood
BAGETA is a manufacturing company, which controls the entire process of raw wood processing.
Special orders can be produced, such as structural blanks, wooden elements of different lengths and thicknesses.
We aim to make the highest quality products that meet your packaging needs.
From blanks for pallets, shields, boxes or boxes themselves to construction wood, we may make any size and style hardwood, conifer wood or heat-treated products.
Production in the entire wood processing cycle
The wood processing cycle starts with bringing wooden logs from the forest.
Our activities include the entire wood processing chain. Transported logs are placed in the initial wood processing plant, where automated debarking line processes logs in such a way that the bark of conifers is separated from the tree.
Debarked logs are cut into blanks, and the sawdust generated in the production cycles is used in the production of biofuel. Thus, the entire raw wood product is used to create finished products. Boards, bark and sawdust pellets are valuable results of sustainable production chain.
In order to efficiently and economically organise our activities, the production base is constantly modernized and processes are automated.
BAGETA contributes significantly to the employment of people in the region. The company's long-term specialists ensure the smooth organization of activities, and the advanced approach and business development encourage the involvement of local residents. Professional development is directly reflected both in the community and in personal activities.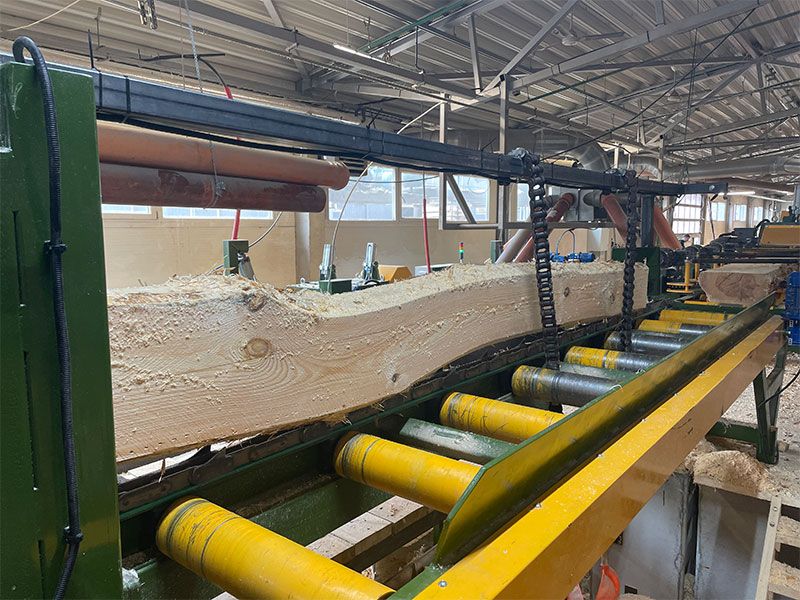 Cutting of wood
We are a traditional business of wood processing.
BAGETA is an FSC® certified production company. Logs from local forests are processed in the company and, by including all subdivisions of processing, a wide assortment of wooden products is produced.
Wood is cut with industrial processing machines. There are requirements for work productivity and efficiency, while prioritizing accuracy and workpiece quality.
Our experienced team is ready to cooperate will all business sectors.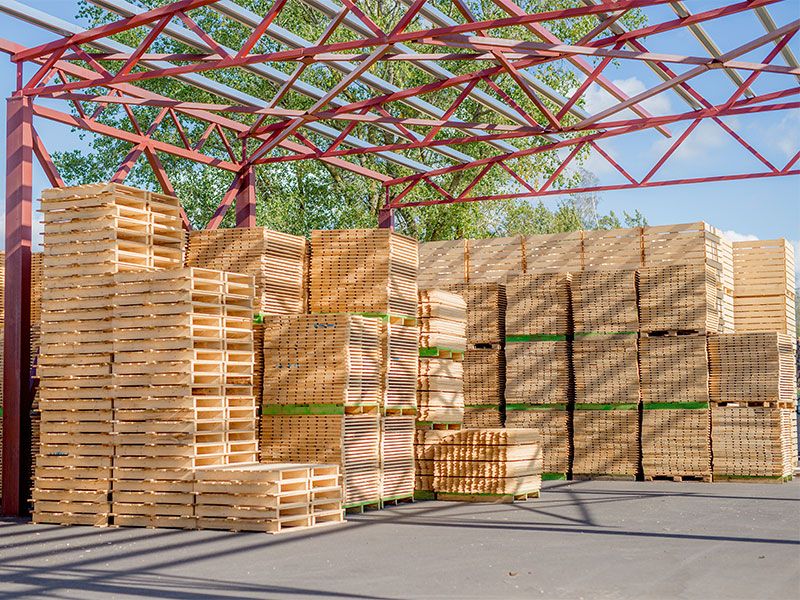 Planing of wood
Planing of wood is the process when the surface of raw material is processed from rough to smooth.
Planing all edges means that all surfaces of the wood have been planed and the product is the same dimension, and each side is smooth and ready for machining.
Rough sawn wood – neither side is planed, the wood is rough as if freshly sawn.
All processes of wood preparations are performed in our production base. Our wood processing machine tools are located in our production department.
After the wood is dried in industrial dryer it is put into planing machine tools.
Planed wood is ideal for wide profile production, fences, shields, boxes and other elements.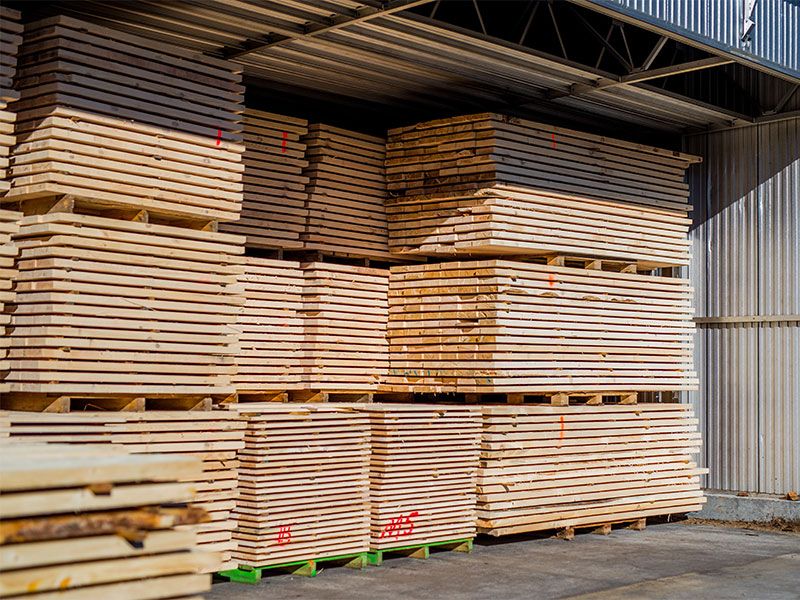 Drying of wood
Drying of wood is automated process of humidity removal from wood by using heating and air flow in a controlled environment.
Wood dried in industrial wood dryers is a standard used in wood production sector.
Proper drying limits the shrinking and swelling of the wood.
Dried wood is the most stable product. Drying process is a computer-controlled system, which ensures even and effective drying of our wood.
This allows for the slow and consistent removal of moisture from the wood without affecting the structure, quality and appearance of the wood after the drying process.
Wood is slowly dried in controlled environment of circulating heated air flow.
Delivery by road transport
We offer a comprehensive service of cargo transportation by road.
International cargo transportation from door to door, including product delivery to loading and unloading points. We cooperate with the largest companies of transportation by road that operate across the continent. A wide circle of partners provides possibilities to organize a complex client service by ensuring the delivery of pallets and pallet collars across Europe.
Delivery in containers
Long distance, international or intercontinental deliveries.
We regularly cooperate with international ship line companies and offer specialised services of worldwide transportation in sea containers.
Solutions for transport from door to door, also for transportation in between terminals and ports.