Wooden Containers and Boxes
BAGETA specialises in the production of large, firm wooden boxes, which are mainly used in agricultural and horticultural sector, in order to safely store vegetables, fruits, while allowing the air circulation.
We make wooden boxes and containers in accordance with precise exact customer specifications, which are coordinated, tested and approved.
Apart from traditional wooden boxes, we can produce boxes boarded on all sides, commonly called containers.
We produce a wide range of the highest quality boxes that meet the needs of all sectors of the industrial supply chain
Assortment of wooden boxes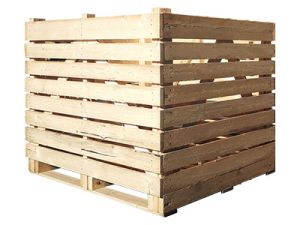 WOODEN BOX
WOODEN BOX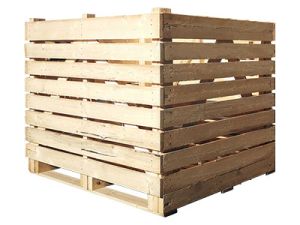 WOODEN BOX
Industrial wooden packaging
Wooden packaging intended to protect devices and other industrial products during transportation and to ensure security during movement.
The main advantage of wooden packaging is the possibility of stable storage and transportation.
Firmly constructed industrial wooden boxes and containers are adapted to distribute large point loads on a plane.
Wooden boxes
Wooden crates made of cut wood are used to transport heavy equipment and may be produced especially for this purpose. A wooden frame with a cover and a base, the boards of which are connected with nails, fully cover and protect the cargo from all sides.
Wooden bases
Flat wooden base, on which any type of cargo may be transported, is designed for the transport of heavy equipment and objects.
Wooden platform can be equipped with holes drilled in the appropriate places for fixing the device or machine.
Wooden frames
Shields are made of wooden boards that may have spaces. A wooden frame of such structure reduces the weight of all packaging, but properly preserves cargo from external factors and open damages.
Used for delivery and packaging of cars and parts of agricultural machines.
Solutions for different industries
Our designed and manufactured industrial wood packaging kits or packaging elements are ready for logistics.
BAGETA may produce and prepare for transportation the components for final assembly in the place of production.
Different parts of a container, such as the base, sides, covers and additional elements for construction, are properly created in order to meet the requirements provided in the planning stage, as well as the specifics of stability, safety, fixing of a product for transportation.
The creation of wooden packaging intended for industrial sectors starts with constructors, by assessing the equipment or the product, by evaluating the attachment points and the balance during transportation. Such process of packaging construction is carefully assessed by experts with regard to many factors and by using special methods for calculation of loads.
Our aim is to become a reliable partner and to ensure long-term cooperation.